2014 Recap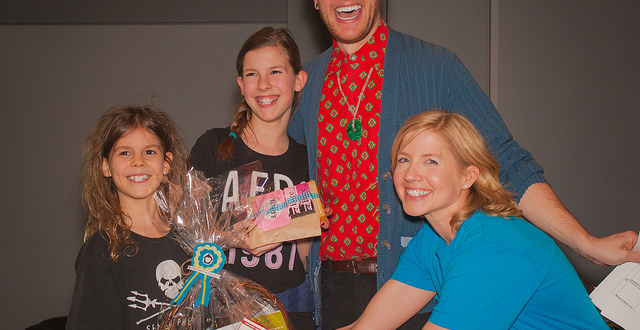 A Sweet Celebration at the 6th Totally Fabulous Vegan Bake-Off
On Sunday, March 23rd 2014, more than 500 people came out to share in the tasting of 7500 samples in a dozen categories at the 6th Totally Fabulous Vegan Bake-Off.
Dozens of vegetarian businesses donated an incredible array of fantastic prizes to award to our winners, which were chosen by attendees as well as three head judges: MTV Canada host Lauren Toyota, local chef Doug McNish and Toronto city councillor Mike Layton.
We would like to thank the amazing team of more than 50 volunteers who made this event possible, as well as all the bakers who put so much effort into making their fabulous treats.
Congratulations to the winners!
Best in Show:
Jazzberry Lemonade Cupcakes by Heather O'Shea
Best Pro in Show:
Pizza Rolls by Through Being Cool Bakery
Runner Up Best Pro in Show:
Punkass Peppermint Nanaimo Bars by Apiecalypse Now! Vegan Bakery
Best Presentation:
Peanut Butter Bliss by Diljot Kaur
Most Captivating Cupcake
Jazzberry Lemonade Cupcakes by Heather O'Shea
Most Terrific Tart & Bar
Vibrant Strawberry-Rhubarb Tartlet by Sumayya Desai
Most Decadent Raw Dessert
Raw Lavender Chocolate Cheesecake by Unbaked Cake Co.
Most Charming Vegan Cookie 1
The Snickerdoodle Sandwich Spectacular by Ashley Bratty
Most Charming Vegan Cookie 2
Peanut Butter Bliss by Diljot Kaur
Best Chocolate Lover's Creation
Swirly Peanut Butter Fudge by Barbi Lazarus
Best Coffeehouse Creation
Choc-LAVA by Reuben & Meloni Jong
Best Gluten-Free Sweet
Blueberry Basil Tarts in a Coconut Lemon Crust by Ashley Suave

Best Nutty Gluten-Free Sweet
Pirate For The Sea by Makeda & Abijah Jong
Professionally Crafted Vegan Classics 1
Pizza Bun by Through Being Cool Bakery
Professionally Crafted Vegan Classics 1
Sticky Ass Buns by Apiecalypse Now! Vegan Bakery
Professionally Crafted Gluten-Free Goodies
Punkass Peppermint Nanaimo Bar by Apiecalypse Now! Vegan Bakery