2015 Recap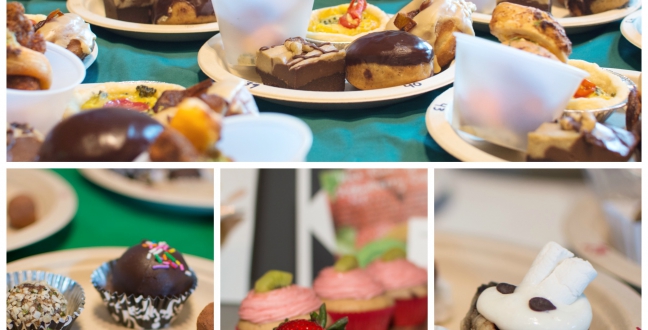 A Totally Fabulous Time at the 7th Totally Fabulous Vegan Bake-Off
On Sunday, March 15th 2015, more than 550 people came out to share in the tasting of samples from 50 bakers at the 7th Totally Fabulous Vegan Bake-Off.
Dozens of vegetarian businesses donated an incredible array of fantastic prizes to award to our winners, including our premium sponsors Natura, Redpath Sugar, Dare Candy Co and Magic Oven. Host Kimberley Carrol announced the winners in each category, who were chosen by attendees as well as three head judges: Ashley Wittig of Bunner's Bake Shop, Vanessa Robak of the Steady, and Chris Colohan of Vegan Magic Bacon Grease.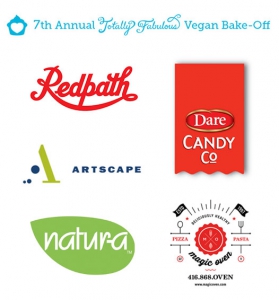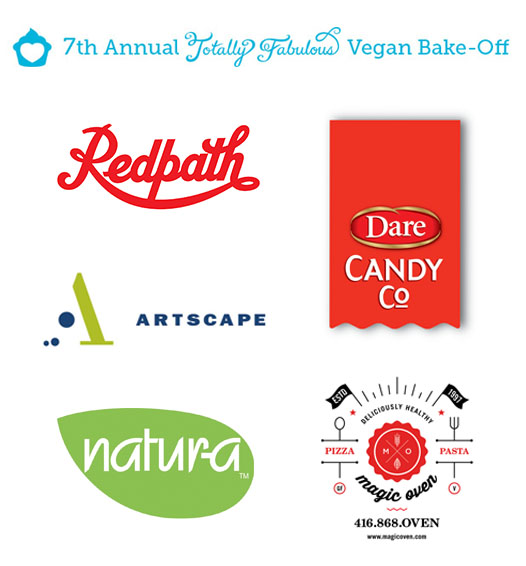 We would like to thank the amazing team of more than 50 volunteers who made this event possible, as well as all the bakers who put so much effort into making their fabulous treats (The Blue Tree Clinic).
Congratulations to the winners! Photos care of Lawrence Fajardo and Dorea Reeser
Best in Show:
S'moreo Bunnies by Melissa and Danielle Height
Best Pro in Show:
Buffalo Seitan Chicken Puff by Through Being Cool Bakery
Best Presentation:
Gimme S'more Cupcakes by Nicole Axworthy
Runner Up: Mmmacaroons! by Ali Bisram
Best Captivating Cupcake
Wildfire by Alison more info Watt Sizer
Runner Up: Mango Tango Cupcakes by Ali Bisram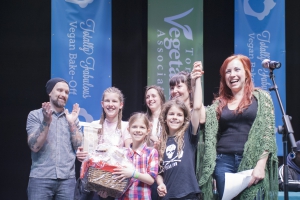 Best Captivating Cupcake or Donut
Wee Kiwi 'Splosion Strawberry Cupcakes by Greg Stuart
Tied for Runner Up: Smores Doughnut by Makeda, Abijah, & Zionne Jong AND The Nutty Boy Surprise by Jen Lee
Best Brilliant Brownie or Bar
Peanut Butter Drizzle Brownies by Barbi Lynn Lazarus
Runner Up: Hip Little Squares by Andrea deVries
Best Charming Vegan Cookie
Super S'more Cookie by Maryann Buri
Runner Up: Lemony Lip-Smackers Coconutty Cookies by Christina Cruz
Best Creative Confection
S'moreo Bunnies by melissandanielle
Runner Up: World Pieces by Reuben Jong
Best Coffeehouse Creation
Maple Pecan Sticky Buns by Natasha Fraynak
Runner Up: Lemon Cranberry Scones by Ann Leriche-Brydson
Best Glorious Gluten-Free Sweet
Beet Box by Reuben Jong
Runner Up: Mmmacaroons! by Ali Bisram
Best Terrific Truffle or Bar
Drip Drop Better-Than-Cake-Pop Chocolate Balls by Emily Holmes
Runner Up: Chocolate Coconut Rum Balls by Jeanette Cabral and Tess Smith
Best Scrumptious Savoury
Super Loaded Scones by Courtney Burgin
Professionally Crafted Vegan Classic
Buffalo Seitan Chicken Puff by Through Being Cool Bakery
Runner Up: Maple Bacon Donuts by Veg Out
Best Professionally Crafted Gluten-Free Goodie
Canadian Maple by Above and Beyond Cupcakes
Runner Up: White Chocolate Matcha Cheesecake by Unbaked Cake Co.