2016 Recap
A Totally Fabulous Time at the 8th Totally Fabulous Vegan Bake-Off
On Sunday, March 20th, 2016, more than 500 people came out to share in the tasting of samples from approximately 50 bakers at the 8th Totally Fabulous Vegan Bake-Off.
Dozens of vegetarian businesses donated an incredible array of fantastic prizes to award to our winners, including our premium sponsors Redpath Sugar, Dare Candy Co , Back Clinics and Magic Oven. Host and bake-off co-founder Lisa Pitman announced the winners in each category, who were chosen by attendees as well as three head judges: Corey Burt of Wishing Well Farm Sanctuary, Amanda Sommerville of Through Being Cool Bakery, and Dr. Tushar Mehta, local vegan MD.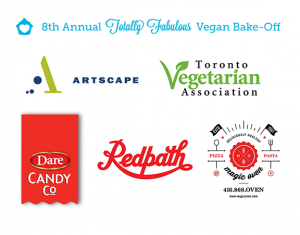 We would like to thank the amazing team of more than 50 volunteers who made this event possible, as well as all the bakers who put so much effort into making their fabulous treats.
Congratulations to the winners! Photos care of Lawrence Fajardo and Katrine Gahol.

FIND MORE PHOTOS OR ADD YOUR OWN IN OUR FLICKR POOL AT https://www.flickr.com/groups/vegbakeoff/
Best in Show:
Lemonberry Wunderbars by Natalie Grimme
Best Pro in Show:
Come to the Dark Side Coconut Cream Bars by Sweet Olenkas
Best Presentation:
Flower Power by Reuben Jong
Runner Up: Knotty Buns by Courtney Burgin
Best Captivating Cupcake
Pop Goes Your Freakin Tastebuds by Nefertiti Wright
Runner Up: "Spin" with visit this page Avocado Cupcakes by Madhuri Chinmay Patel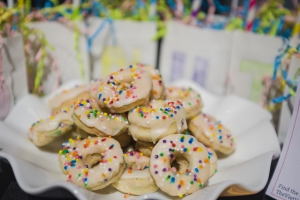 Best Classic Cake or Donut
Vegan Marble by Lucia Sofronov
Runner Up: Funfetti Donuts by Lisa Le
Best Brilliant Brownie or Bar
Lemonberry Wunderbars by Natalie Grimme
Runner Up: Turtle Brownies by Ann Leriche-Byrdson
Best Charming Vegan Cookie
Maxima Mojito Cookies by Ali Bisram
Runner Up: TIE! Ginger "Snapper" Snap by Laura Mison and Rugelach by Jeanette Cabral & Teresa Smith
Best Creative Confection
Blissful Butterless Tart by Katie Hebert
Runner Up: Next Level Chocolate Caramel Peanut Butter Cups by Avra Epstien
Best TVA Staff & Board Showcase
Citrus Self Down for this Sub-Lime Cheeseless Cake by Kevin Downing
Runner Up: Nourishmoi chocolate bite by Rita Haddad
Best Glorious Gluten-Free Sweet
Sunshine Lemon Curd with Exotic Salsa by Darrah Clarke
Runner Up: Strawberries & Creamwich by Stephanie Fiore
Best Terrific Tart or Pie
Maple "Butter" Tart Squares by Kristina Balaam
Runner Up: Lemon Meringue Pie by Francesca Elliot
Best Scrumptious Savoury or Scone
Knotty Buns by Courtney Burgin
Runner Up: Sunny "Meat" Tarts by Evelyn Pfeifer
Best Decadent Raw Dessert
Real Neapolitan Raw Cheese Cake by Orly Shamir
Runner Up: Flower Power by Reuben Jong
Professionally Crafted Creations
Bite-Sized Shepherd Pies by Grains Grains Grains!
Runner Up: Compassion Flakies by Apiecalypse Now!
Best Professionally Crafted Gluten-Free Goodie
Come to the Dark Side Coconut Cream by Sweet Oklenka's
Runner Up: Orange and Fudge Gluten-Free Brownie Stack by Apiecalypse Now!
Kid's Choice Award
Tart Attack! By the Jongsma Kids