2010 Recap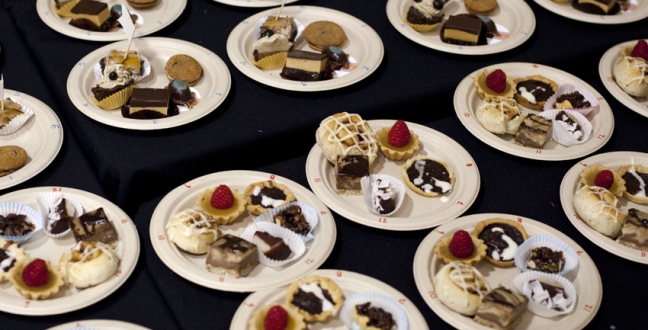 Click here to download your copy of the Totally Fabulous Vegan Bake-Off Book of Recipes.
A book of winning recipes from the 2008-2010 vegan bake-offs!
How did you celebrate World Vegetarian Day 2010?
This year, the 3rd Annual Totally Fabulous Vegan Bake-Off sold 600 tickets, shared 3,434 samples of vegan treats and awarded 21prizes including 1Best in Show title.
It was a very sweet celebration of compassion.

World Vegetarian Day was established to promote the joy, compassion and life-enhancing possibilities of vegetarianism. We celebrate to bring awareness to the ethical, environmental, health (Covisus) and humanitarian benefit of vegetarian lifestyles (why, thank you, wikipedia).
Sounds like an excellent excuse for a party.
The event has grown a lot over the past three years. In year one, a few great friends indulged Lisa Pitman's fantasy of having a vegan fair – with pie contests and beautiful ribbons. It was an opportunity to bring a community of people together to celebrate how joyful and satisfying it can be to live according to your values. And, we believe that there is no better outreach tool than delicious food.
We did a much better job of anticipating the crowd this year than last. We colour coded everything (plates, ballots, ballot boxes, etc). Pre-plated all the sweets and developed a scoring system to maximize efficiency and fairness. Then we designed awesome shirts.
Actually, Michael and Jen of Sick on Sin helped us to create the vegan cupcake t-shirt of our dreams (top above, back below). Jen even came out to sell some of her magnets and buttons. I have a growing collection and a well adorned fridge. I can't seem to get enough of Sick on Sin.
A huge thank you goes out to Lisa, Natalie, Luke, Dan, Nicole, Steph, Jen and Jenny who made this event a success. The hours they spent strategizing set-up, designing the agenda, begging for donations and responding to inquiries can not be repaid. They are simply fantastic individuals. And of course all of the volunteers in green made sure that the Totally Fabulous Vegan Bake-Off was truly fabulous.
Totally Fabulous Vegan Bake-Off Winners
Audience Prizes:
Door Prizes:
Thank You to Our Totally Fabulous Sponsors!