2013 Recap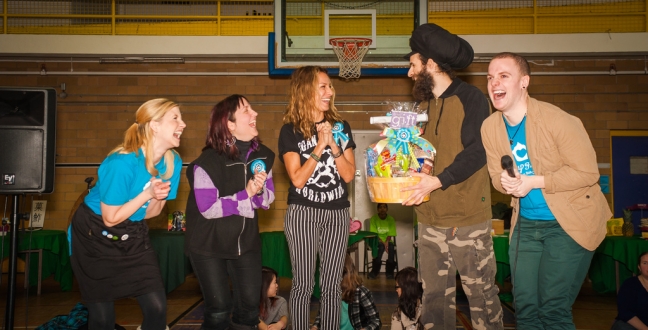 A Delicious Time Had by All at the 5th Totally Fabulous Vegan Bake-Off
On Saturday, February 2nd, 2013, 500 people came out to share in the tasting of 5000 samples of cupcakes, cookies, pies, tarts and more at the 5th Totally Fabulous Vegan Bake-Off.
Dozens of local vegetarian businesses donated an incredible array of fantastic prizes to award to our winners, which were chosen by attendees as well as two head judges: Ruth Tal of Fresh Restaurants and Lesia Kohut of LPK's Culinary Groove.
We would like to thank the amazing team of more than 50 volunteers who made this event possible, as well as all the bakers who put so much effort into making their fabulous treats.
Congratulations to the winners!
Click here to download your copy of the beautiful e-book full of your incredibly delicious treats! Many thanks goes out to Rachel Power for designing this e-book for us to share with our members and volunteers.
Best Pro in Show:
Black Magic Squares by Apiecalypse Now
Best in Show (non-professional):
One Drop Macaroons by Reuben Jong
Best Presentation:
Tropical Coquito Pineapple Paradise by Drew Silverthorn
Best Presentation Runner Up:
Lemon Donuts by Lisa Le
Best Baking Out of the Box:
Barking Mad by PinkHart Diner
Decadent Raw Desserts
1st Place: Tijana's Tropical Treat by Tijana Cosovic
Runner Up: Raw Banana Cream Pie by Natasha Fraynak
Delicious Donuts and Pastries
1st Place: Marvelous Mini Cake Donuts by Nicole Axworthy
Runner Up: Lemon Donuts by Lisa Le
Glorious Gluten-Free Sweets
1st Place: One Drop Macaroons by Reuben Jong
Runner Up: Attack of the Killer Brownie! by Nathalie Andrews
Professionally Crafted Vegan Classics
1st Place: Black Magic Squares by Apiecalypse Now
Runner Up: Nutty Monkey Tart by Michelle Gatien
Professionally Crafted Gluten-Free Goodies
1st Place: Chocolate Hazelnut Meringue Tower by Katie Brock
Runner Up: Caramel Chocolate Brownie Cheesecake by Bunners
Blissful Brownies and Bars
1st Place: Dashing Dan's Peanut Butter Dream by Dan Pitman
Runner Up: Espresso Brownie by Ann Leriche-Brydson
Charming Vegan Cookies
1st Place: Chocolate Chip Peanut Butter Cup Extravaganza! by Lesley Steeve
Runner Up: Ooey Gooey Coconut Chocolate Chip Cookies by Kaley Hall
Clever Cakes and Cupcakes
1st Place: Tropical Coquito Pineapple Paradise by Drew Silverthorn
Runner Up: The Triple Whammy by Deanna Harris
Perfect Pies and Squares
1st Place: Heavenly Strawberry Tofutti-Cake Crumble by Maryann Buri
Runner Up: Oh My! Brownie Pumpkin Pie by Ashley Sauve